We provide a full range of telephone entry systems and accessories to meet your specific application requirements.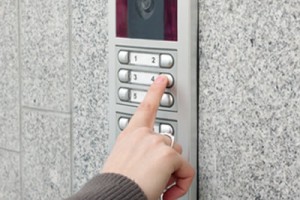 Our systems are PC programmable systems and include the Remote Account Manager and Transaction Analysis software. Some of our entry systems are ideal for basic stand-alone telephone entry control and some provide two-way communication and control of a door or gate through a residence's telephones without the need of Central Office phone service. These systems can also provide full access control system and integration with surveillance systems.

Benefits of Telephone Entry System:
Residential Telephone Entry Systems use the same phone line as the residence. The entry system rings the local phone with a distinct ring when someone presses the call button at the driveway gate. All phones on that line will ring and the gate can be controlled from any of them, including wireless phones. Most of these systems can call up to three pre-programmed numbers and the gate can be controlled remotely by phones anywhere. Typically, these systems have many features such as built-in timers.
Commercial Telephone Entry Systems always use a dedicated phone line or operate without a phone line. These systems are meant for gated communities, high rises, apartment buildings, and other multi-user situations. They can keep records of individual users and can incorporate card readers and transponders.